Hugh Lee 1918–2011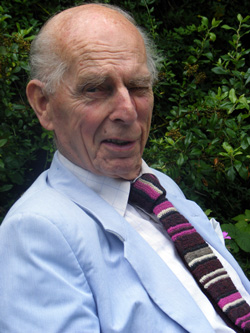 'Imaginative', 'witty' 'enigmatic' – these are some of the things Hugh Lee's work has been called. But most are by no means simply jeux d'esprit, but passionately pondered over and struggled with. He never liked to talk about his work, nor theorise about its meaning, or what painters might have influenced him. He came to use objets trouvés in the same way as some early Cubists. Others saw a likeness with Schwitters, maybe, or the Dada movement, and certainly when he saw some of Margaret Mellis's assemblages he felt a kinship with her. But he was adamant that no one artist was his mentor.
For a retired Treasury civil servant to devote himself, often full time, to this all-consuming passion for over thirty years might seem unexpected, though he was no stranger to the art world. He had haunted galleries, antique shops and auction houses for years, collecting pictures and ceramics, old furniture and odd objects that took his fancy.
Perhaps his instinct to create grew from encounters with found objects – fossils, scrap metal, beach pebbles or jetsam, playing with and photographing them. When he adventured into paint, it was, he claimed, because of the gift, by his mother-in-law ( a talented painter before her marriage), of her collection of some 80 brushes unused since the 1930s.
His earliest paintings on board, using a mixture of materials — emulsion, white spirit, glue — were lively and adventurous. An abortive attempt to 'learn how' showed that he had little aptitude for likenesses or the laws of perspective; once he found oils his experiments became more robust and assured. From the start he liked to transform implements, stones or unusual pieces of wood into standing objects; gradually these invaded his pictures and over time assemblages became his most characteristic form of expression.
These are just a few of some 600 works existing at his death, hanging in profusion in his Richmond home. Though some were exhibited, and he had two one man exhibitions, in his lifetime he would never sell.
Many more images will be added to this website over time.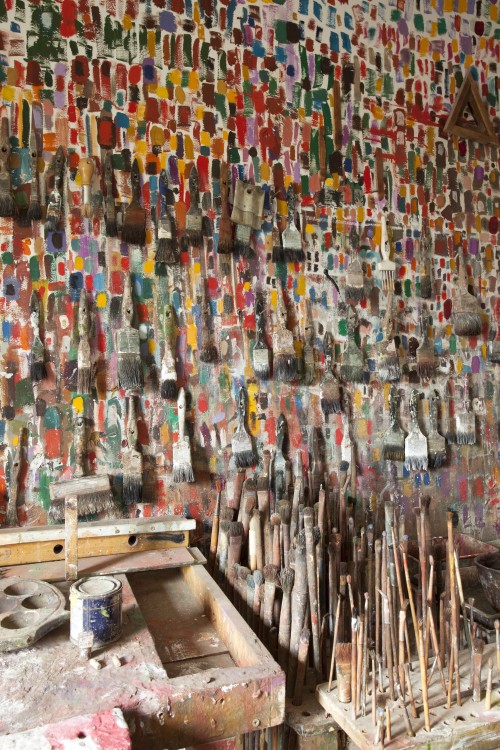 Workshop wall, with brushes.
Hugh Lee – Life
Born Gulmarg (Kashmir) in 1918
Attended Harrow School
Scholar and graduate ( wartime degree) of Oriel College, Oxford
Served in World War II in Eighth Army as Infantry and Staff Officer, and in Allied Control Commission in Romania till 1947. Wartime Lt. Col.(?)
Married (in Bucharest) Viorica Silberstein in 1947; two sons and one daughter
Entered Civil Service and served in Ministry of Defence, transferring to HM Treasury where he spent the rest of his career
After his wife's death married Penny Hooper in 1967; a further daughter and son
Interests: collecting furniture, paintings, ceramics, odd objects, walking on South Downs and elsewhere ( finding pebbles, fossils etc.)
In retirement became trustee of Charleston Trust, then restoring Charleston Farmhouse in Sussex; ran Friends and Newsletter, later, Magazine
Earliest objects and first paintings late 1970s. Increasingly his work became his full time occupation. One man shows at Orleans House Gallery, Richmond (2008) and Pasmore Gallery, Harrow (2009). Still actively working in year of his death (2011) at age of 93